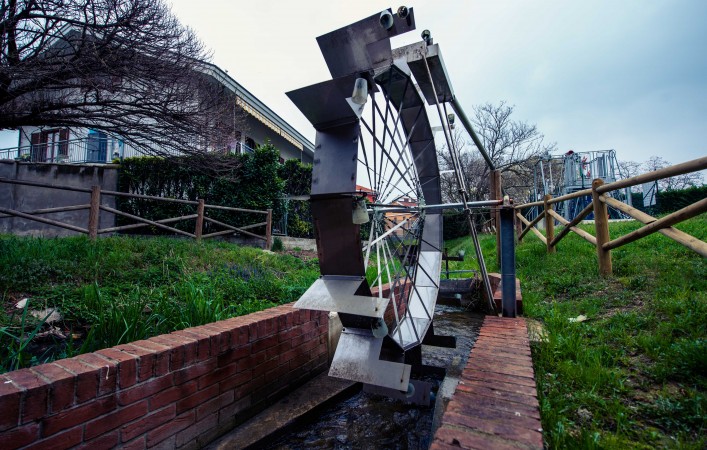 The water wheel is a machine able to transform the power of water into mechanical power. Its origins are ancient and date back to the outset of our society. In ancient times the water wheel was used to grind cereals.
In the XVIII century it had an important development and it laid the foundations of the modern hydraulic turbines.
How can we turn a water wheel into a learning tool able to explain the basic principles of physics to everyone? This is the challenge that Wesen in taking on in the design of interactive installations.
Per consultare questo contenuto accetta la cookie policy cliccando sul banner in basso e ricarica la pagina. To view this content accept the cookie policy by clicking on the banner below and reload the page.
The water wheel that Wesen has designed and built belongs to the Ecomuseo del Freidano di Settimo Torinese, an open air museum park dedicated to natural heritage, technological development and local history.
The water wheel and the other interactive machines are aimed at explaining how water has been lifted during centuries through human muscle strength. The machines are used here as a tool to stimulate the physical involvement of the public, that can operate the wheel and experience the result of its effort.
Thanks to a simple exercise, this exhibit is able to explain a difficult concepts such as the difference between energy and power. This approach enables the visitor to participate actively and to have a different experience of a museum visit.